In our Online Vinegar Making Course and Workshop Vinegar Making Classes you can learn how to make vinegar – producing high-quality vinegars easily at home yourself as a hobby. The course covers the following issues: what is vinegar and how can you make it at home? Furthermore the correct harvesting, preparing your own mash for making alcoholic liquids, vinegar fermentation of various alcoholic liquids, making a fermentation starter (mother of vinegar), common processes for making vinegar, using vinegar equipment (vinegar generator), determining the acetic acid, determining the alcohol content in the vinegar, setup and design of vinegar making equipment, numerous vinegar making recipes for fermented and infused vinegars, and storing and bottling the vinegar. Current developments and new features you can find in our free Newsletter.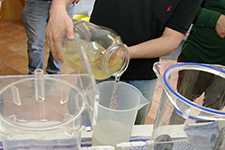 Online Vinegar Making Course
How to make vinegar at home? Learn all the steps in a hands-on way in the Making vinegar yourself course by means of photos, videos, descriptions and diagrams. You can watch us in videos during the individual work steps. In the Online Vinegar Making Course you can learn at your own personal speed including a test and certificate.
The online vinegar seminar can be taken irrespective of time and place.
In the vinegar course, you will get to know all the key points for making vinegar: How do I prepare the fruit for alcoholic fermentation? What liquids can I use for the vinegar fermentation? Should I acidify beforehand? How can I add flavor to alcohol that is low in flavor with fruit, nuts, herbs and so on? How do I determine the content of alcohol and the acidity of vinegar? Do I need a mother of vinegar? How do I make a mother of vinegar? What vinegar-making equipment should I use? How is vinegar stored?
You will also find an extensive collection of recipes – What is vinegar made of – for mashes, fermentation vinegars and infused vinegars.
Workshops – How to Make Vinegar Classes
In one and a half days, you will discover the secret of making vinegar in the Vinegar making workshop. On the first day of the you will learn the theory, and on the second day the practice. In the Vinegar workshop you will ferment vinegar yourself, make a fermentation starter (mother of vinegar), use vinegar making equipment, and determine the acetic acid and alcohol content of the vinegar. The course takes place in Klagenfurt am Wörthersee (Carinthia, Austria).
In the Vinegar workshop you will perform the following work steps yourself :
The vinegar seminar is suitable for both beginners and advanced vinegar makers, because the content is unique in several areas and goes beyond the generally known school of thought.